It's a little disappointing the amount of Prodigies I see that are half empty that could easily have fit in any of the other smaller MITX cases so I thought I'd try and fill one the way it was meant to be done, with lots of cooling.
It started off as many others still are, fairly basic. I'd actually gone a step backwards here as I took out the two stock fans and stuck an AF140 in the front for some reason.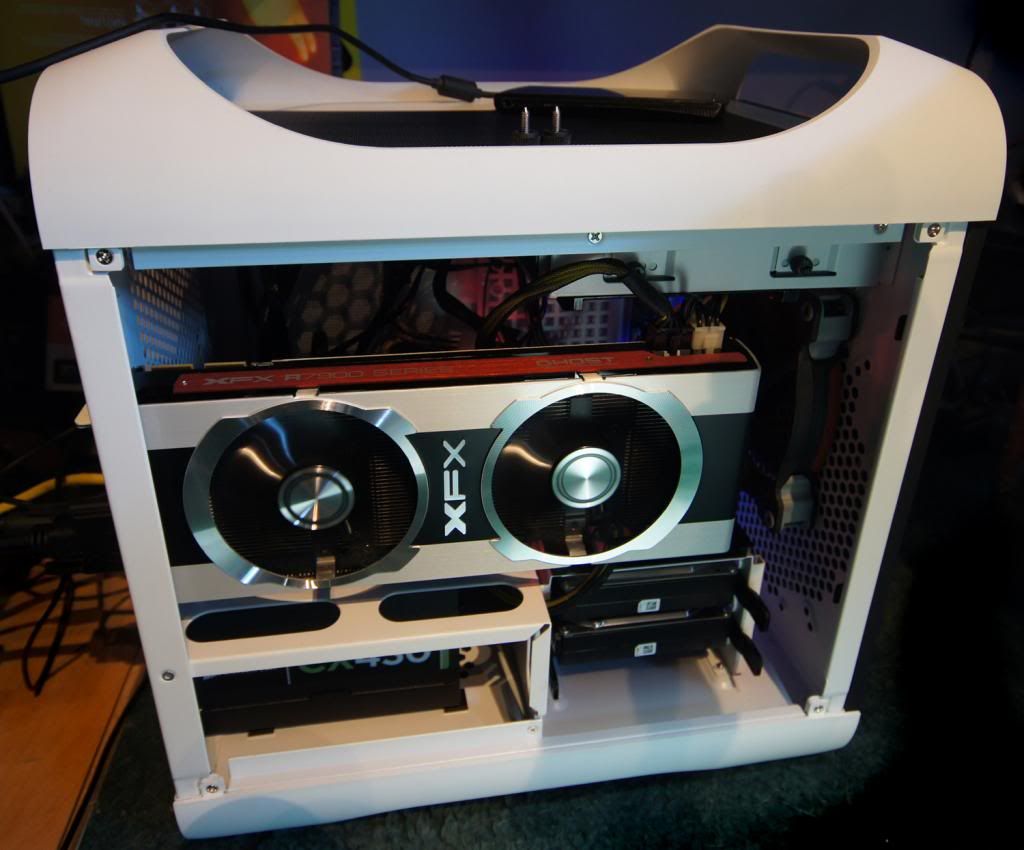 It wasn't super tidy but I knew it wouldn't be staying as it is for long.
First up was a 230mm Spectre Pro for the front and the AF140 moved to the rear, as well as a TX3 to replace the stock heatsink (I originally ordered a 212 but that didn't fit, the TX3 was a compromise and again I knew it wouldn't be staying for long).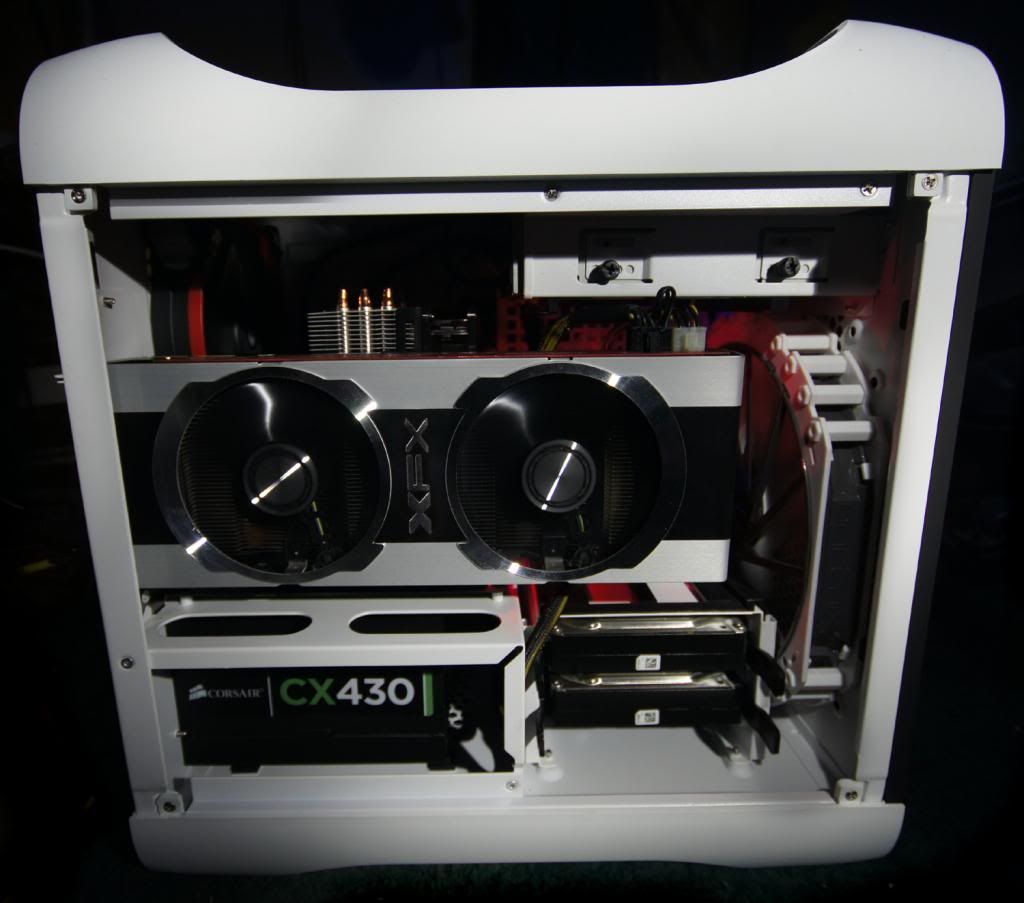 Then I worked on making it a little prettier with some sleeved extensions and a DIY cover for the PSU area to hide some wires behind.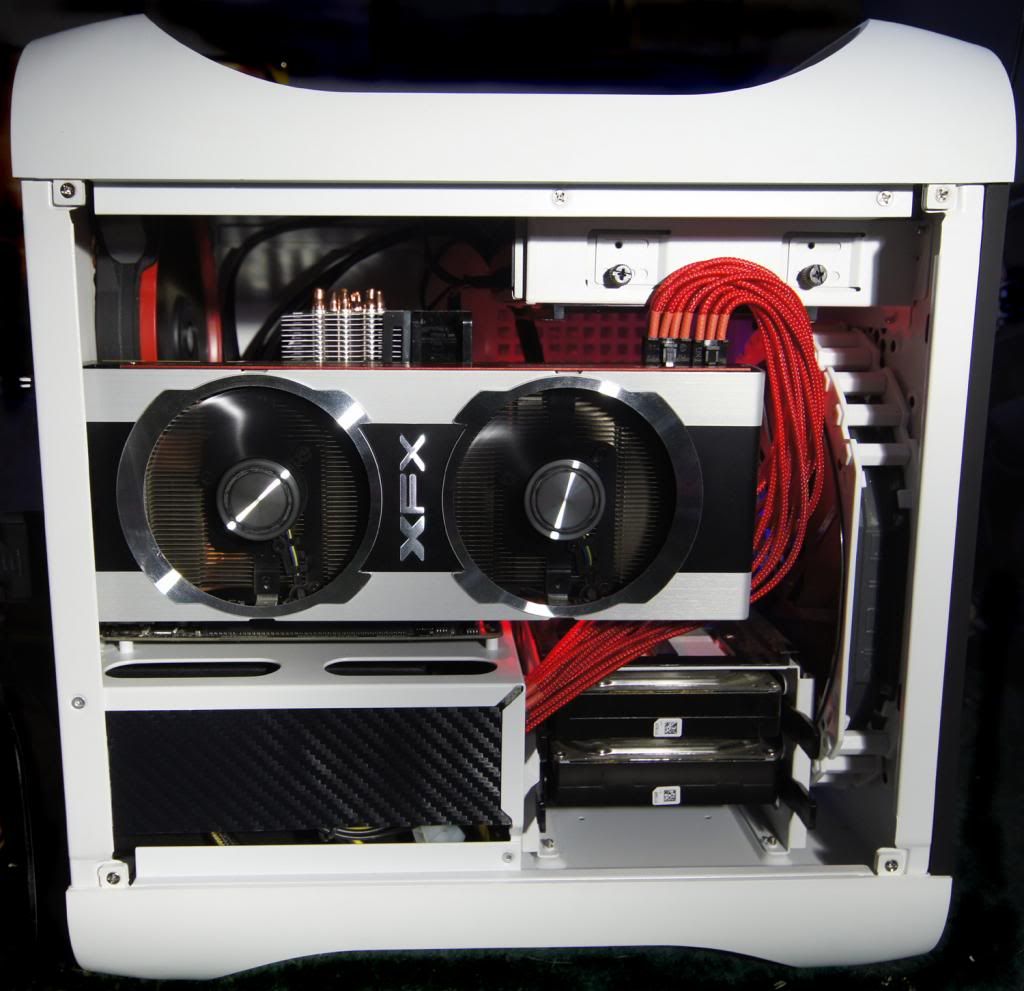 And then I decided to replace the front panel, the vents round the outside got clogged up far too quickly and was hard to clean. Black mesh was my only option and I figured I'd go with red trim to match the theme going on inside. Also removed the junky optical drive and bought a cheap external Blu-ray reader to replace it.
Also got a magnetic filter for the side panel made by Silverstone, an almost perfect fit.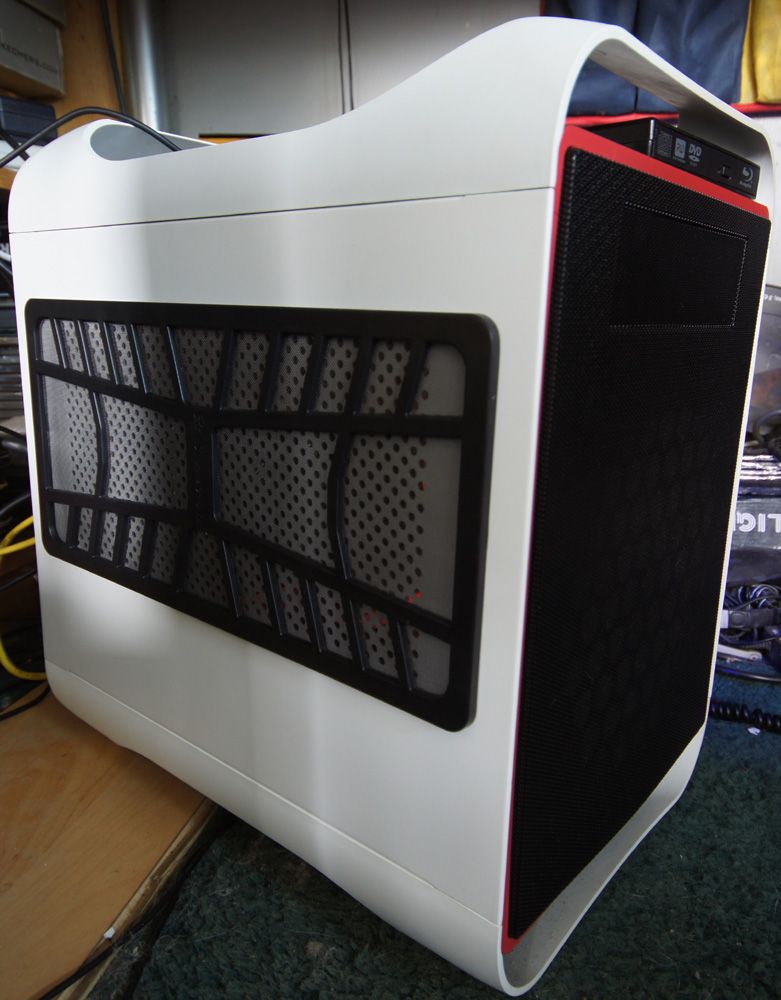 At this point I was happy with the looks but I knew I could stuff more in there and it just didn't justify using such a large MITX case.
And so began my first venture into watercooling. I decided on Swiftech's H220 as a base to save a little space, combining the CPU block and pump as well as integrating a res into the radiator. Unfortunately it turned out that my graphics card used a non-reference PCB so I was tuck with using a universal GPU block, not ideal but I couldn't stand the rubbish air cooler for much longer.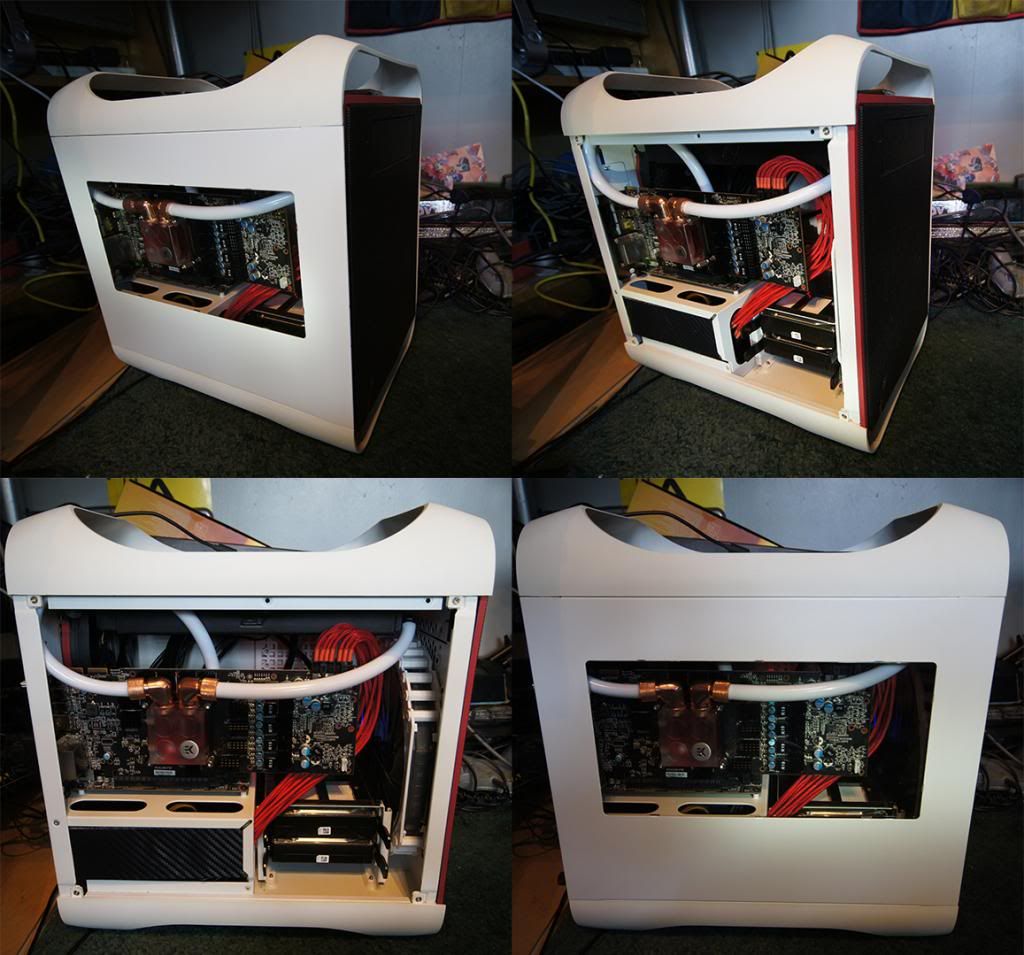 The space was now looking better utilised with that rad at the top.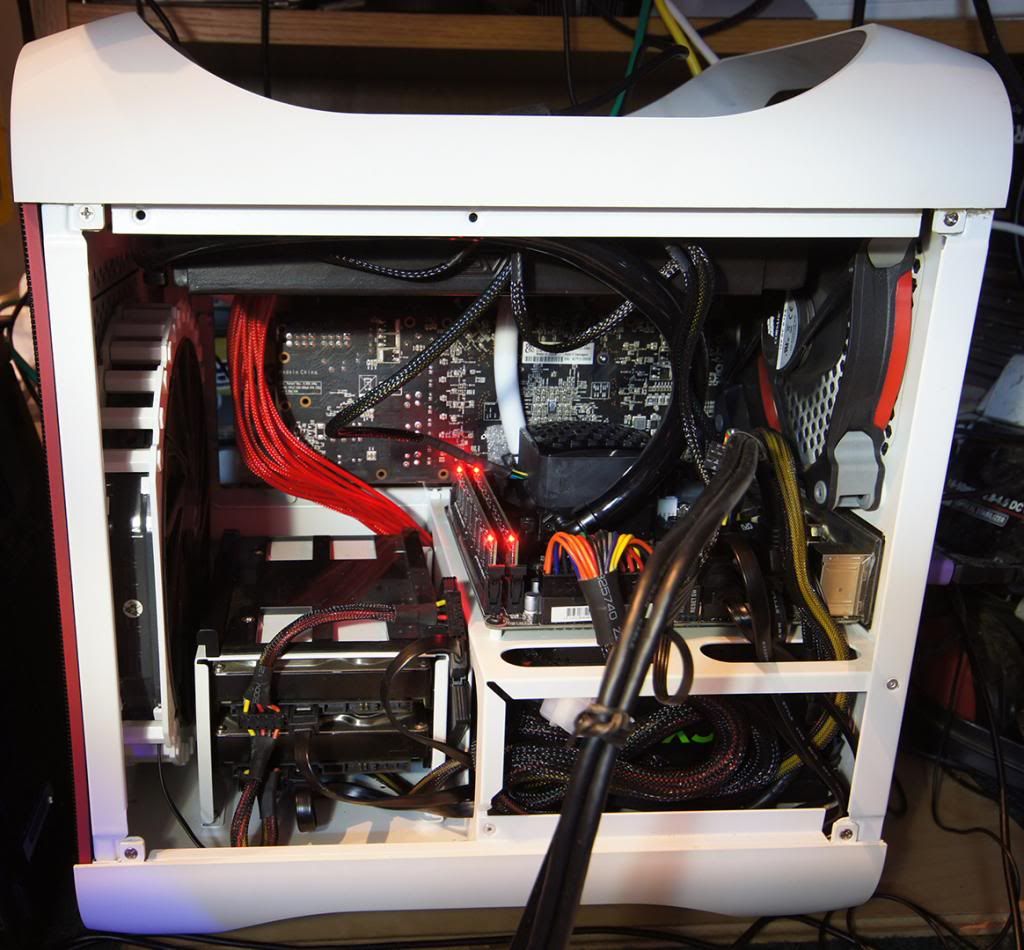 Unfortunately due to the uni GPU block the VRM wasn't getting any cooling and the heatsinks on it weren't helping a great deal, especially as the front fan wasn't blowing much air onto them. I made up a duct to direct the air in front of the card and added a junk 40mm fan cable tied over the heatsinks which helped a fair bit.
But still I could do better, I extended the ducting and swapped in two Xilence fans, now the temps are pretty much in line with the GPU (~30°C idle, ~60°C load).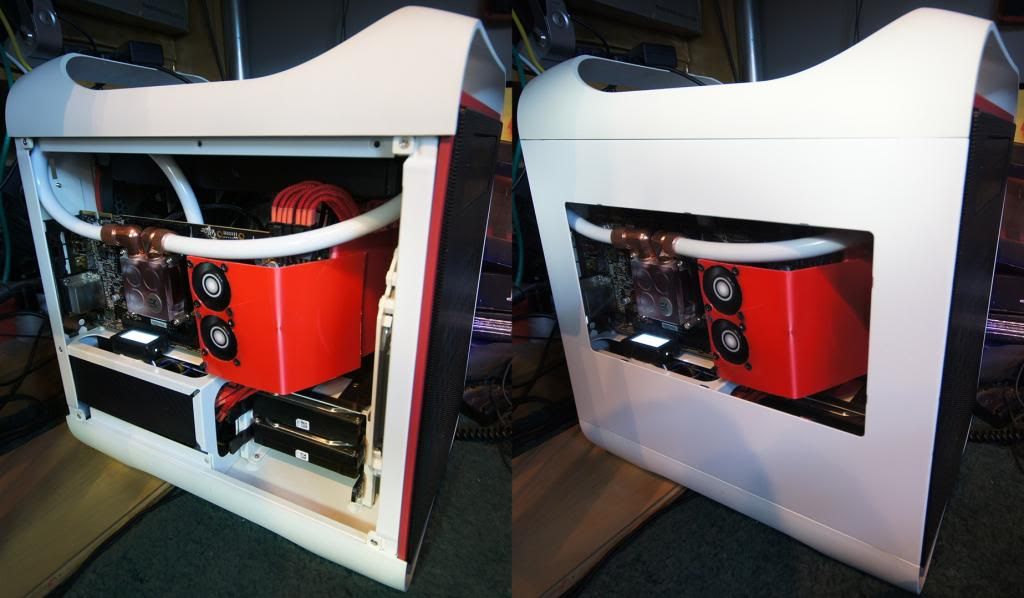 And that's how she sits today, chances are the next change will be a graphics card upgrade most likely to a 690 and then I'll work on adding a second rad in the front.
Current specs:
Bitfenix Prodigy
i5 2500k
XFX 7950
Gigabyte Z77N
2x 4GB Geil Black Dragon RAM
2x 2TB Samsung Spinpoints
128GB Samsung 830 SSD
Corsair CX500
Swiftech H220 and EK VGA Supremacy GPU block, two NF-F12s on the stock rad
AF140 rear intake, 230mm Spectre Pro front intake
Bitfenix windowed side panel and replacement front panel
Let me know what you think, hopefully this inspires a few Prodigy owners who are still air cooling.