I thought it would make update my build topic, my english is still not in the best of shapes, but regardless, let's begin.
The part choices are pretty ilogical in this build, so is the upgrade process, which in atleast 1/2 of the time is accualy a downgrade
, the most performance i had whith my system was whith I3 2120 and 7850 1gb, though I changed it just because i wanted to overclock the cpu, didn't really succeed as my current MB can't go past 1.56 vcore and randromly reboot's when ram speed exceeds 1600mhz(though i benched it once @ 2400 cl 12)
My pc right now:
CPU: A8 6600K
MB: A88XM-E35 (whith some cooling mods on power delivery)
RAM: Gskill Trindnet 2000mhz cl9 4gb kit (2x2gb) (running @ 1600mhz cl11 because my MB can't handle any higher clocks
)
PSU: Xsilence 550w
VGA: Built in 8570D @ 1100'ish mhz
HDD: 1.5 Tb Seagate Barracuda
Case: Some old scrached up step case, i don't care that much about the looks because the PC sits below my desk most of the time.

CPU upgrade list:
Pentium 4 ht @ 2.8 (478) ---> Athlon X3 460 (AM3) ---> Phenom X3 710 (AM3) ---> Pentium D 820 (775) ---> FX 4100(AM3+) ---> I3 2120(1155) ---> Core 2 duo t5600(i used a laptop) ---> A8 6600k (FM2)
GPU upgrade list:
430 Gt(1Gb) ---> 3870 (512Mb) ---> 4850 (512Mb) ---> 4870 (1Gb) ---> 7850(1Gb) ---> 8600GT(256mb) ---> 8600 GTS(256mb) ---> Intel Gma 945(8mb(haven't seen a worse gpu than this one, but atleast it could play NFS UG2 @ ~20-30fps))---> 8570D (256-768mb)

Case upgrade list:
none ---> Pizza box ---> Shoe Box ---> That step case ---> None (better temps for litecoin mining
) ---> Shelf below my desk ---> inside my desk ---> Some chair that i found ---> That step case
Current look of my pc: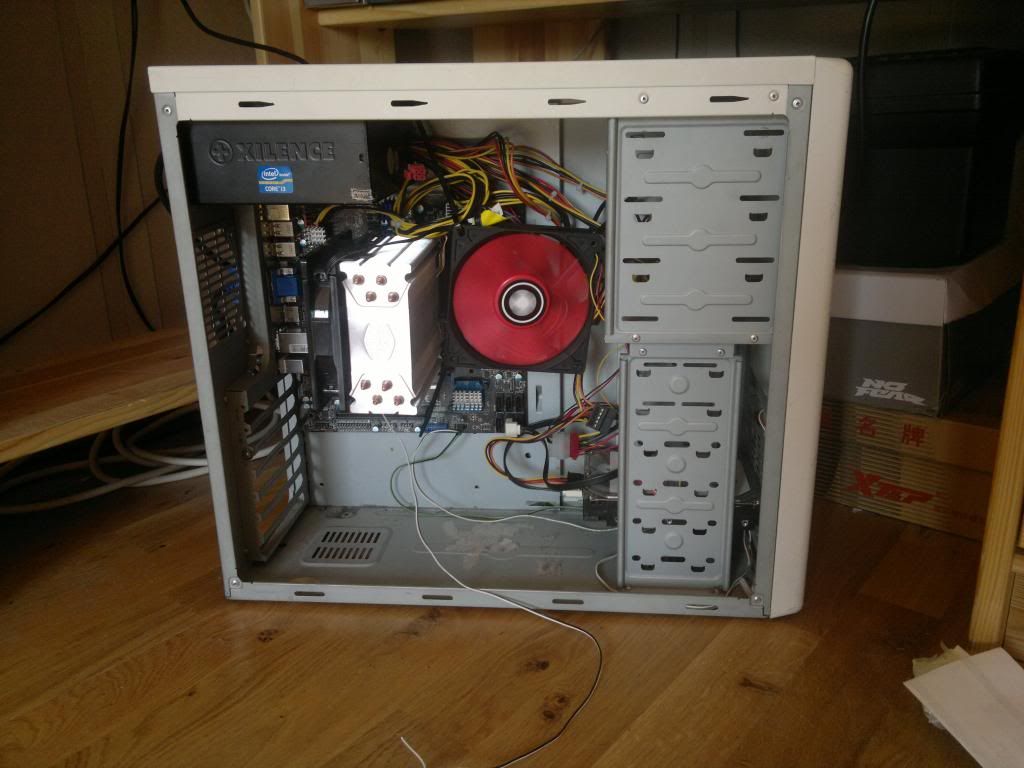 Tied the xsilence fan to my case whith zipties, it works atleast, I did it because i really needed the vrm and ram cooling, the black/white wire is for clearing cmos, as i used to overclock this thing almost daily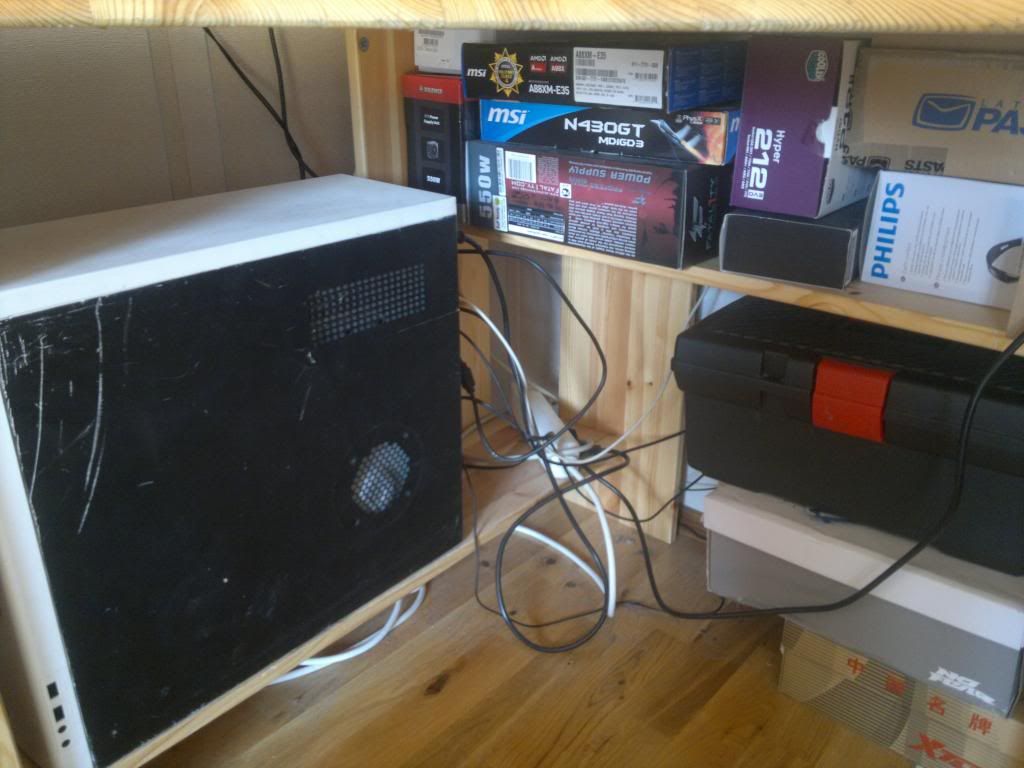 And in it's natural habitat, ya i know i'm braggig whith mediocre hardware boxes, i keep 'em only because i might need them for warranty purposes.
Other pics: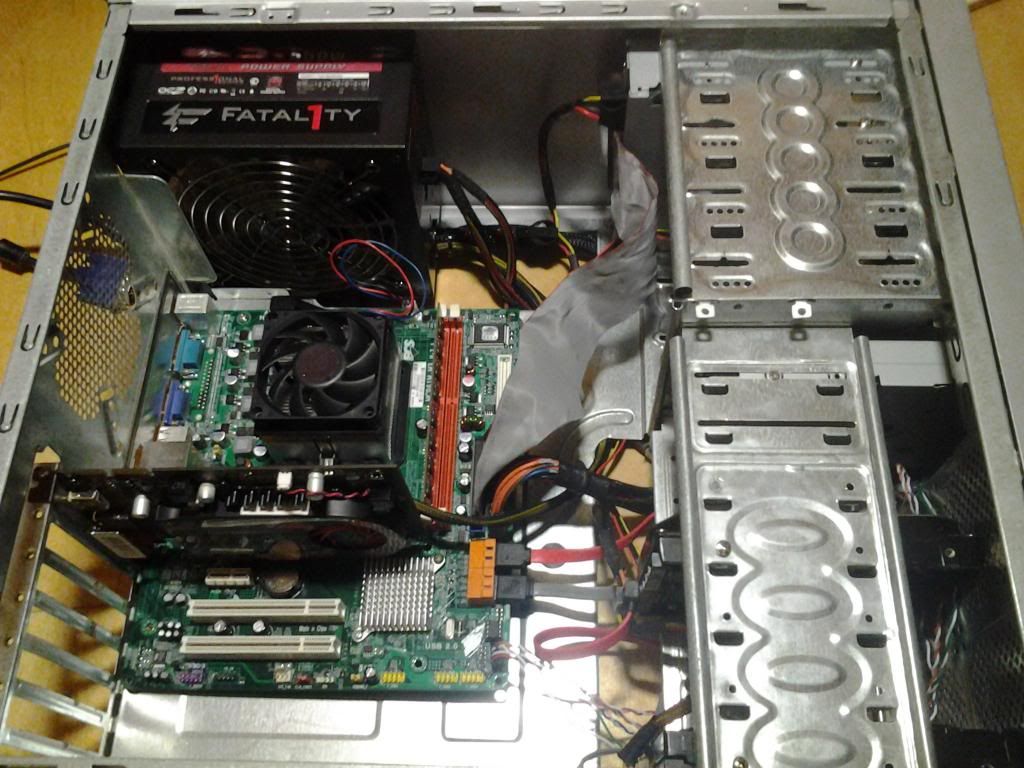 This is the oldest picture that i could find, here i'm running Athlon X3 460 whith 4Gb of ram, a AMD 5670 and 160+40 gb hdd's in jbod
This is the case i was running at the time, can't remember the name though (the lights are the fan controller)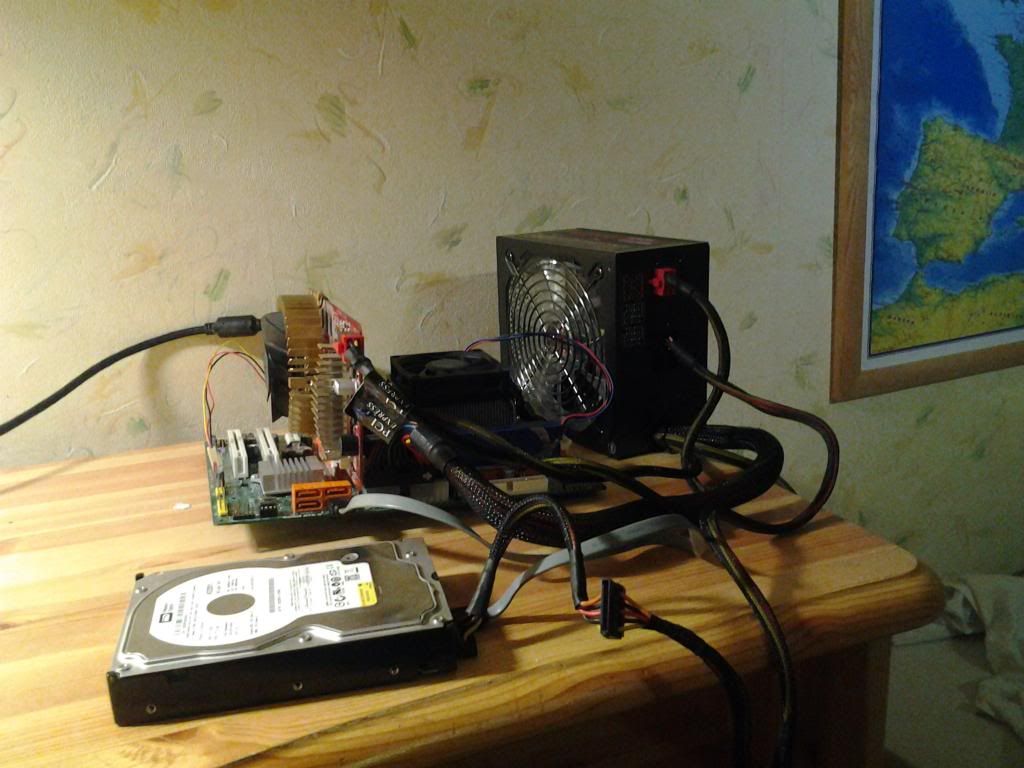 This is a bit later, i changed the gpu to 3870(yes, i know it's a downgrade) and the harddrive to a single WD 320 gb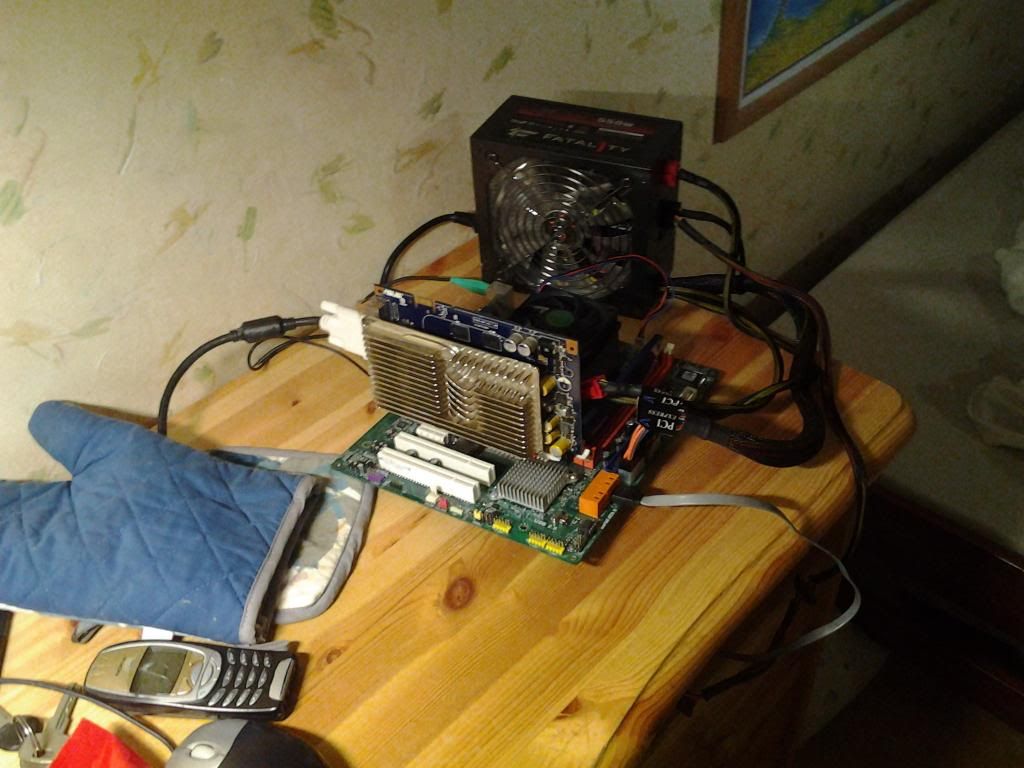 This is after i baked my first card, a Nvidia 8600gt, (oven mits i needed to remove the card, that thing hitted 110 degrees celsius on the core whith passive cooling
)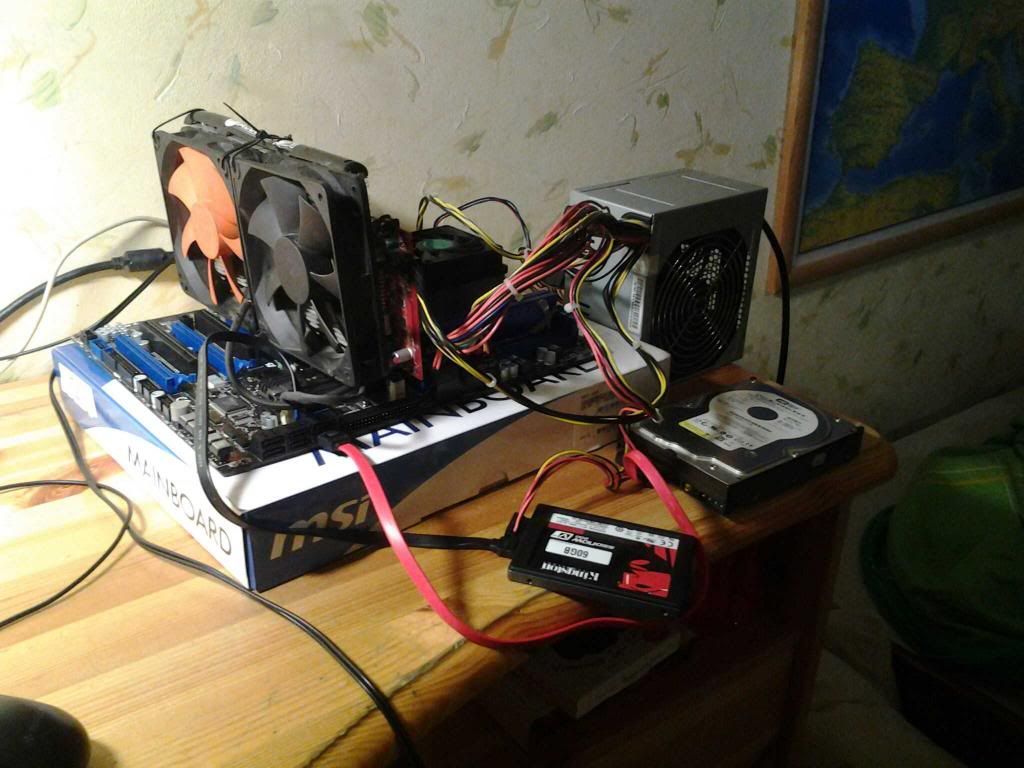 This is a bit after that, i changed the PSU to a simmiliar 550w whitout the flashy lights, added a 60g ssd, changed the mb to a badass MSI one and changed the gpu to a 4870 1gb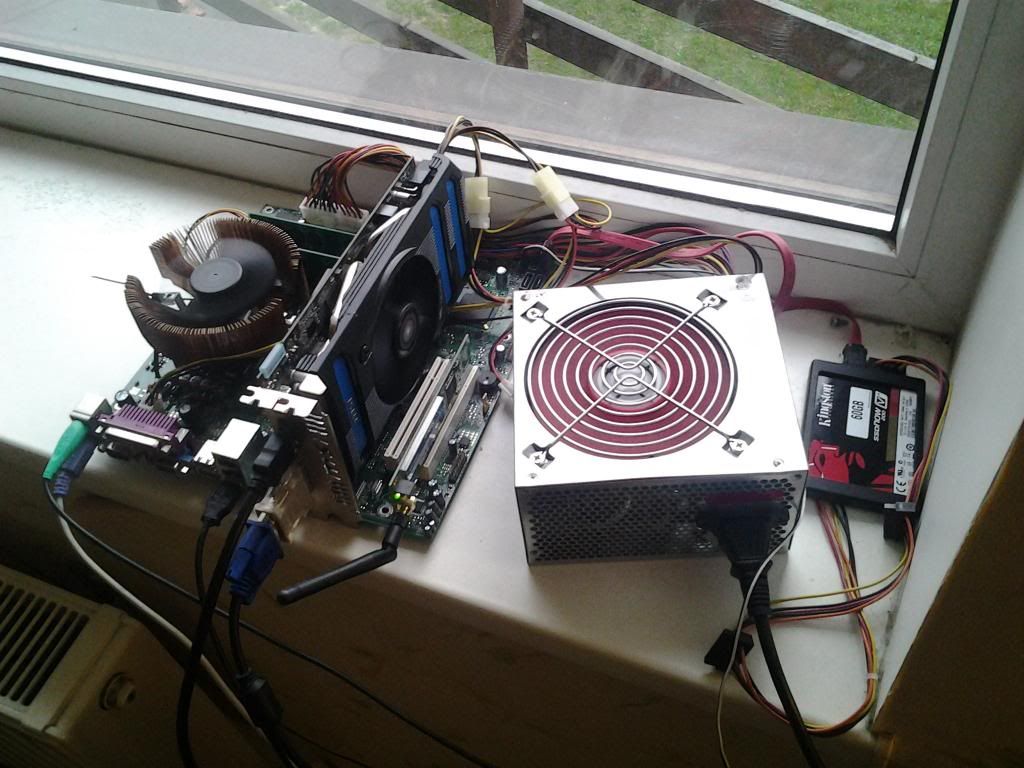 It was on there only beceuse it gets lower temps that way.
That's the cpu cooler, i got the fan superglued to the zallman copper part, which is thightened whit zipties.
This is how real men mount their coolers
The GPU, its the MSI 7850 1Gb edition,. I like it, currently though it's only mining litecoins and sometimes i play LoL on it. (when i'll get a beter platform and a hdd i'll get back to gaming more + i have got tests in the next month or so, so i'll be busy)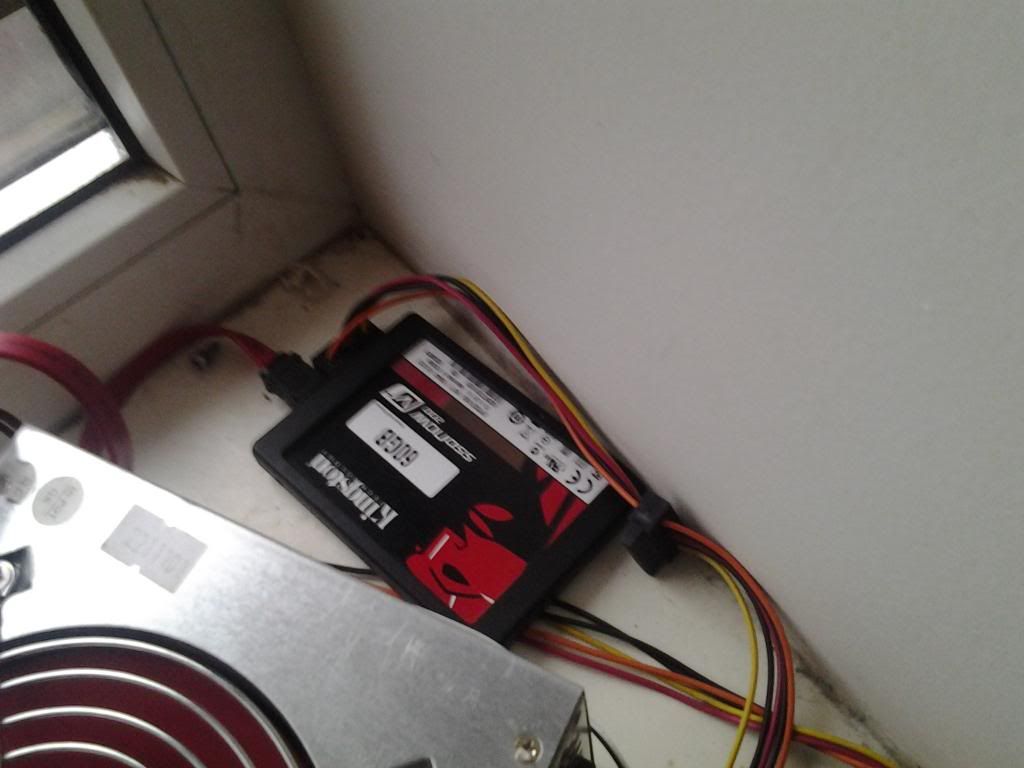 The storige. Currently im only using this because my 1.5tb hdd will be arriving soon. I really like this ssd, it's cheap, powerful, and i can easly fit windows, ubuntu and some apps on it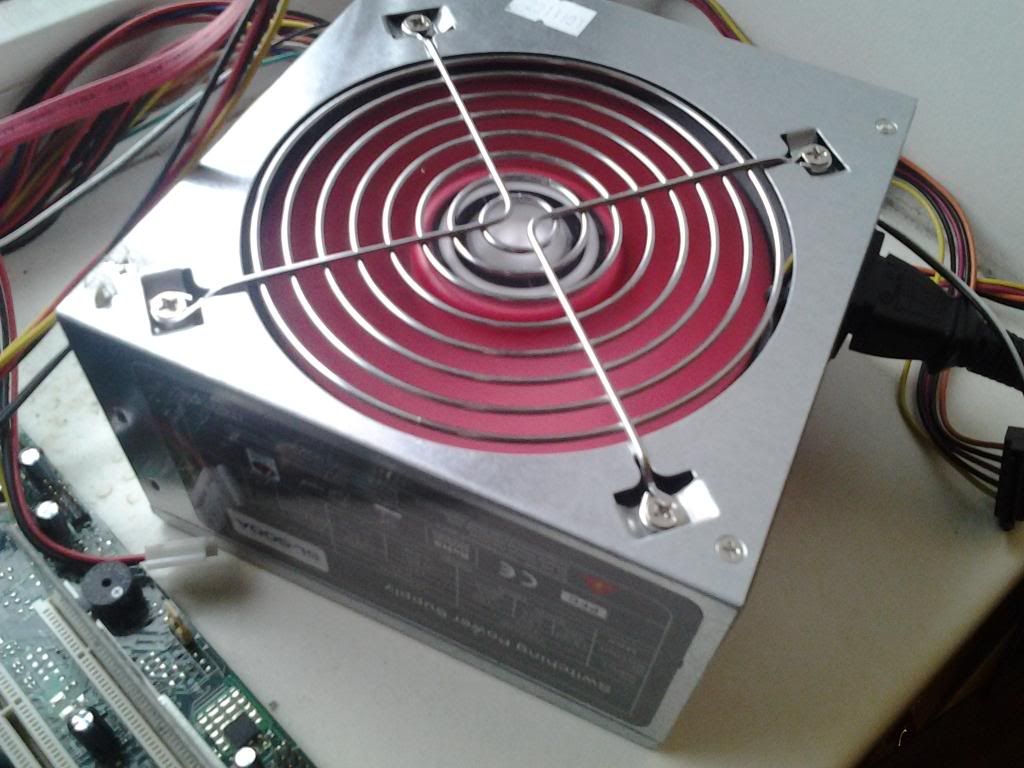 The PSU. This is some noname 500w psu, i really hate it because it gets really hot and annoys me all of the time (the fan is xsilence, i changed it because the stock one broke)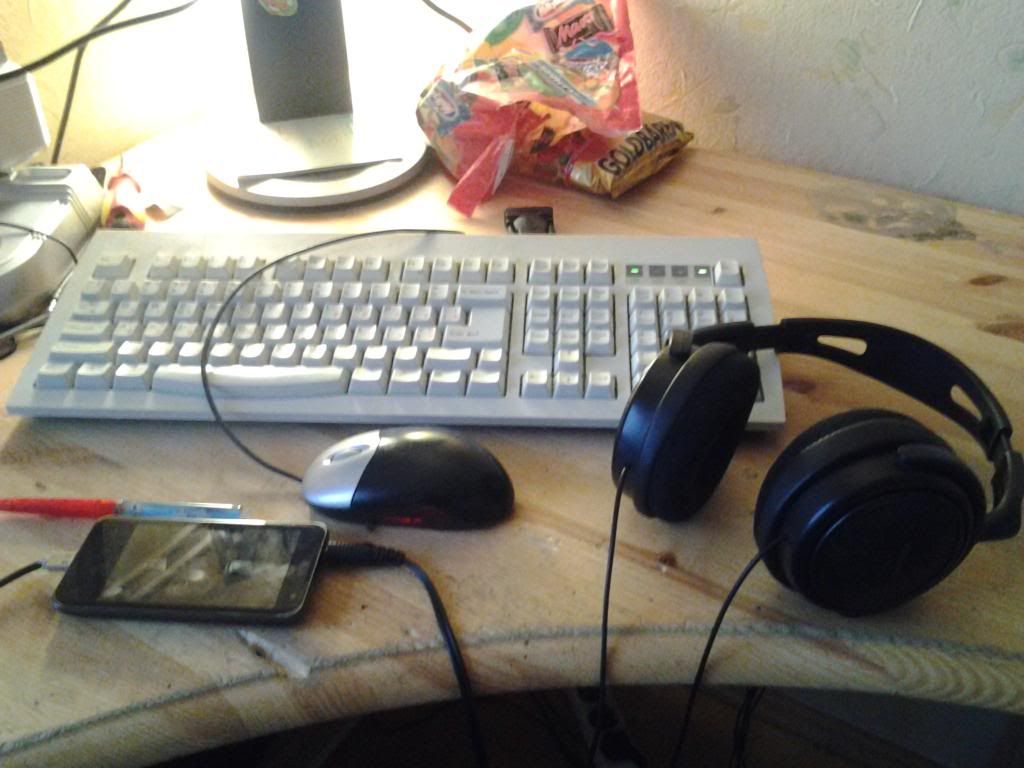 Dat pheriphials, it's a cheap HP mouse, a old logitech keybord, and an optimus 2x, because the mic port is broken on my MB, i'll get a soundcard soon (ignore, the candy, i love me some candy)
This is my monitor, using it still in 2014, nice 17 inch model, and i don't really need more, I'll probably upgrade it some day or bust out 2 other simmilar ones and run eyefinity(accualy it's a nice setup, i've used it before and i personaly liked it.)
So, what was the point of this, thread? I wanted to show how i have tinkered around whith my pc for the past year or so (the first picture was in august 2012), i thought it was cool, and i would love some ideas in dhe comments
PS. More pictures below, really didn't want to make this post any longer as it is.