Pull up a chair, get comfy and have a gander at my banal ramblings.
Today I am going to be reviewing two products. It's the old scenario of two birds, one stone. The two products I am reviewing are, in my humble opinion, the very minimum you need for the basis of a high end gaming rig. Whilst neither product could be considered top of the range they do offer fantastic value.
The two products going under the microscope today are the AMD FX 8320 8 core CPU and the Asrock 990FX Extreme 3 motherboard. I will cover my thoughts and opinions on the motherboard first at a 'customer level' per se. This should give you all of the information you should need if you were considering a cheap (the key word here !) 8 core system.
I spent many hours doing my research on products and feel that I've struck the perfect balance between features, performance and most importantly of all; the price.
The Asrock 990FX Extreme3 explained...
This is not a high end board. It may look like one when you look at the photos but it does make sacrifices here and there. This isn't such a bad thing because the spec belies the price which is always a nice thing to get. It is based on the 990FX chipset and has all of the functions and features you would expect from a more expensive product, yet, makes the odd sacrifice here and there so save you money. It's not a high end board in the strictest sense because it only has a 4+1 power stage. However, that being said it can still overclock the CPU to the magic number.
Talking of the magic number, let's explain that shall we? After exhaustive research I found that the 8320 starts to shine at around 4.2ghz. The only significant step up from there is the average limit of this processor which stands at around the 4.5ghz mark. Once you get to 4.5ghz there is little to be gained by going any higher and if you do then you need some pretty extreme cooling.
The idea here is go get the CPU to the sort of clocks where it does a good job of keeping your minimums at acceptable levels. The Asrock (as I mentioned before) does make cuts in this area (the power stages) BUT the board will still allow you to overclock your 8320 by a good sum, boosting performance significantly.
It includes five SATA III ports, four of which are the preferred more expensive edge connector variety that we all love because they allow us to perform tidier cabling.
There is one 'upright' connector just above the four edge connectors and this came in really useful for me to connect my DVD drive to. I know that by now a lot of us do not use optical drives any more but I do, and I rely on mine (I prefer buying hard versions of my games as I collect them). However, four SATA III ports should be enough for even the most hardened gamer. Remember - this set up is pretty much for gaming.
So those are the two bad things, the sacrifices. Now let's get on to the nicer stuff shall we?
Before we move onto that let's take a quick look at the board, shall we?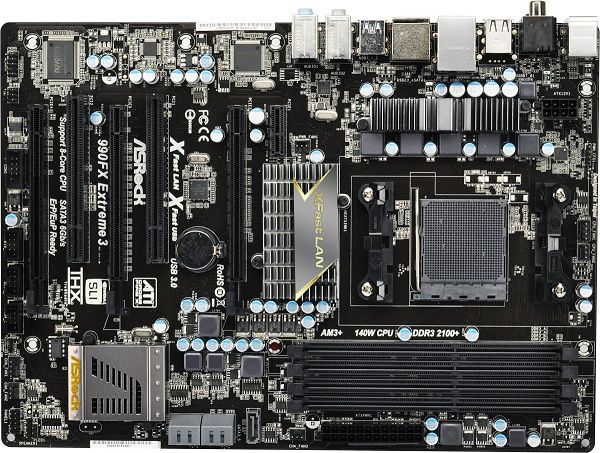 The board supports all of the sorts of things us gamers look for, without detonating the bank account.
ASRock DuraCap (2.5 x longer life time), 100% Japan-made high-quality Conductive Polymer Capacitors
Digi Power, Supports AM3+ Processor, 8-Core CPU
Supports Dual Channel DDR3 2100(OC)
Supports AMD Quad CrossFireX™, 3-Way CrossFireX™ and CrossFireX™
Supports NVIDIA® Quad SLI™ and SLI™
2 x USB 3.0, 5 x SATA3, 1 x eSATA3
Supports ASRock XFast RAM, XFast LAN, XFast USB Technologies
Supports On/Off Play, Graphical UEFI, AXTU, APP Charger, Turbo UCC
7.1 CH HD Audio with Content Protection
Free Bundle : CyberLink MediaEspresso 6.5 Trial, 1 x 3.5mm Audio Cable
What's really nice to see here is that the board not only supports Crossfire X, but also supports SLI.
Not only that but the SLI support is actually 16x 16x if you decide to run it ! This is a feature that is pretty much unheard of with a £80 motherboard and usually saves itself for much more expensive models.
The PCB is a very deep brown colour that appears black until hit with any kind of light, and the heatsinks are classy and not over done with their gold livery. I must admit that aesthetics played a big part in my choice, given that my graphics cards are gold and black. It is a little narrower than more expensive boards but this isn't a problem as it still looks the part when fitted to a computer.
The socket and slot layout are also very good on this board, and something that really made me warm to it even more was that it comes with a hard SLI bridge. Over the past few years I have used many SLI systems and one thing I have always hated about SLI is the ribbon bridges as they are terribly unreliable and usually made to a very poor standard.
When they don't work properly the screen flashes and flickers and exposes all kinds of problems. Thankfully Asrock have used their brains on this one and given us a really nice, well made hard bridge that also gives our cards some support to stop them sagging.
Many rivers to cross, but I will take this bridge any day.
You will notice that so far I have not thrown a load of numbers and graphs at you? That's because I am reviewing this product at a end user level so I am covering what's more important and the things that end users care more about.
The board costs around £80 delivered and I really like it. I'm not just saying that because I own it, I'm saying it because I've gotten it to do anything and everything I have asked of it with minimal fuss.
However, like some motherboards it is a little quirky so I urge that you know your onions when it comes to overclocking as it is a hard board to work with !
Overclocking
First and foremost the ram support on this board is rather flaky. Before I built this system I had two pairs of odd memory running harmoniously side by side and as happy as Larry. Sadly that was not to be on this motherboard so I had to remove one pair of the sticks.
I decided to stick with 8gb of Mushkin Blackline (Frostbyte) but even then I found that my memory would not run with any sort of stability on this board without upping the voltage. In the end I settled with 9-9-9-24 @ 1.6v (not 1.5 as the memory states) and 1600mhz.
The system then booted quite happily and has done ever since.
Onto the CPU overclock. For some reason if I even so much as breathed near the multiplier on this board it refused to post afterwards. It didn't matter how easy I went on it, or how much voltage I fed it, or how much I calibrated it, it just refused to play ball.
Now this could have been down to the CPU itself (the 8320 may be inferior to the 8350 at a binning level) but yes, if you were looking to just add an amount to the multi and hope that it will overclock well then look elsewhere. In the end I had to use the FSB which then tampers with the memory settings so it wasn't easy.
However, I did get there in the end, 4.2ghz stable by using the FSB.
It matters not which direction we take in life, nor the paths we take, so long as we arrive at our desired destination - VT 2013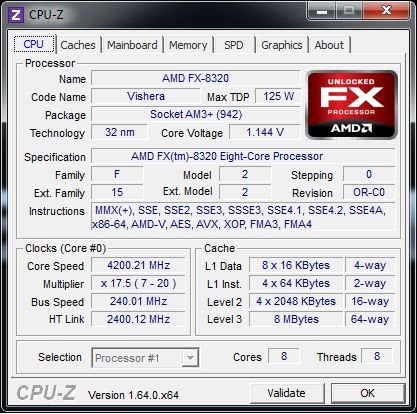 I was very happy now because I had arrived where I wanted to be, the 4.2ghz mark.
The conclusion.
Well here we are then. Is this board worth having? I guess it depends what you are looking for. See, when something is great value it's very easy to start reducing that value by expecting too much out of it. That sounds pretty confusing right? well yeah, it is. Let me explain it then.
The AMD FX 8320 costs £113 as I write this (Aria) and will no doubt drop in price as it continues to age. Therefore, we need to keep everything as cheap as we possibly can. As an example here.
You go out and buy a budget CPU and then to get the most out of it you spend a fortune on a high end motherboard and even more on a top end cooling solution just to get say, 400mhz more out of that CPU.
The problem is by that stage you have already began to devalue this cheap budget of yours by adding expensive luxuries to it. Does that make sense now? I hope so.
In my opinion a budget is a budget. If, say, you can afford a 7850 2gb it would be rather annnoying to pay attention to society because I guarantee if I posted a thread on any forum on the internet it would go a little something like this -
"Hi, I have a budget of £130 and I was looking to get a 7850"
to which this happens...
"Hi. I would spend £XX more and get a 7870"
And then...
"Hmm, why not spend £XX and get a 7950? oh go on !".
By the time you are done you have ended up spending way more than you originally planned to. So yes, in conclusion I say that this motherboard, coupled with the excellent 8320, with an overclock of 4.2ghz is more than enough for any one and chimes in at exactly two hundred pounds.
Try doing that with an Intel...
OK, so that's the motherboard covered, let's move onto the processor shall we?
In the second part of today's review I am going to write a little bit about the AMD FX 8320. Again, like above I am not going to start saying "But for £50 more you can get a 8350 and it's much better because you can clock it higher" because again, that ends up being £100 more+*
*£50 extra for the CPU then £50 extra for the H100 you would need then £60 more for the motherboard with the power stages to clock it up that high..... See what I mean? it soon spirals out of control.
So back to reality we are going to make our decision and stick with it. The AMD FX 8320 is exactly the same chip as the 8350 it is just clocked quite a bit lower. Some of the websites selling this are a bit naughty when it comes to the paper specs of this CPU because they say, and I quote -
AMD (Piledriver) FX-8320 3.50GHz (4.00GHz Turbo) Socket AM3+ 8-Core Processor - Retail
However that is not strictly true and I blame AMD. The CPU has a base frequency of 3.5ghz. It turbos to A single core at 4ghz but only turbos to 3.7ghz on all eight cores. Mind you, Intel do this too with their non K cpus so at least it's not just AMD showing some dishonesty. In their defence there is no mention of this on the official AMD website, they simply refer to it as a 3500mhz processor. This lags behind the 8350 by a fair chunk because that comes clocked as standard to 4ghz out of the box with an 8 core 4.2ghz turbo clock.
Now you can understand why, when under a strict budget, we want our 8320 to run at 4.2ghz because that gives us the £50 difference for free, back into our pockets.
Getting it out...
The CPU comes packed in a really nice metal tin box. Here is the box it comes in.
Which is a nice touch. 8 cores are overkill at the moment but with any luck they will come into their own over the coming months (I strongly believe, well, know, they will) and then it will be the high end product AMD view it and market it as.
When we open the box we are greeted with a stock cooler (which I won't mention because I am so anti stock cooler it's unbelievable) as well as the CPU itself, with a nice little case sticker/badge.
I proudly display mine on my case, but each to their own on this one.
Onto the benchmarks.
I'm not going to go crazy here, because no matter what game you play on this CPU the important thing is that all of those games will be completely playable, so detailed FPS counts aren't that important (in my opinion, remember I am talking to you as a some one advising you, not selling something to you).
Also I tend to find that reviewers benchmarks usually wildly differ to those results I produce myself. I'm not decrying reviewers' benchmarks here I am just saying that results will differ from PC to PC. To me what matters are the minimums, but I will try and test the CPU with any of the latest games that are in fashion right now.
Our test set up.
See, this is a part of the problem tbh. My computer will wildly differ to yours, unless of course you decided to buy exactly the same components as me which let's face it, would be a bit camp and a bit silly. We all like to put our own personal touches on our PCs, it's what puts the P into PC (personal). However, these are the components being used to test our games.
CPU - AMD FX 8320 @ 4.2ghz
Asrock 990FX Extreme3 motherboard
8gb 1600mhz memory
Palit GTX 670 'Jetstream' graphics cards running their stock 1085mhz boost and running in SLI.
Corsair F120 SATA II SSD.
3Dmark (13) Firestrike
3Dmark 11