2014 RULES CHANGES
Formula 1 has always been about technical innovation; now however, with the automotive sector turning towards higher efficiency, it's not unusual to see motorsports do the same (even if it means losing the signature acoustic sound that has been synonymous with a Formula car). To sum up 2014's rules changes: smaller engine, stronger dependence on energy recovery systems, heavily revised aerodynamics, stronger emphasis on efficiency, etc. First and foremost, the most significant change this year is the change of engine platforms. Starting in the 2014 season, all F1 contenders are required to implement a 1.6L turbocharged V6 engine (now limited to 5 engines per driver per year) in addition to a slew of changes designed to address the Energy Recovery System (ERS) as well as changes to fuel delivery / capacity / efficiency regulations. Slowing down at the end of a race to conserve fuel is now a violation against the regulations and is no longer justifiable. Minimum vehicle weight limit (without fuel) for the 2014 competitive year is set at 691kg, an increase of 1kg over the limit set for 2013 (to account for changes in tire design); the minimum weight limit is set to increase to 701kg for the 2015 competitive year. Also an amendment for the 2015 competitive year is the banning of all tire-heating apparatuses. A more detailed and thorough analysis is available in the technical section located below.
Pretty much every component of a 2014 Formula 1 car is brand new and engineered from scratch, meaning that all 11 participating teams will be unable to rely on the majority of the data points recorded over the past few seasons. The new engine and increased reliance on ERS has presented teams with a major reliability issue, so don't be surprised of a lot of these cars don't make it to the ends of races. For ONLY the year of 2014, all teams are permitted more curfew "jokers", whatever that means, to account for the brand new engines and cars. Pirelli remains the official tire supplier for Formula 1 through to 2016, and in a collaboration with the FIA has implemented changes to the updated sporting regulations. As far as testing days, one of 12 official pre-season testing days will be dedicated exclusively to wet tire testing; each team must dedicate one of 8 in-season test days for tire testing with Pirelli's engineers. In regards to 2014 sporting regulations, race stewards may now impose a five-second time penalty during a pit stop but prior to any work commencing. All team personnel are also required to wear helmets during both qualifying and the race. On a less important note, drivers are now allowed to pick their own car numbers as opposed to being assigned numbers as they were the past few years.
NOTE: the final day of the Jerez testing session (January 31, 2014) will be devoted to wet weather testing on an artificially wet track as per Pirelli's announcement (thus fulfilling the FIA requirement that one of 12 total test days must be for this purpose). This condition stands unless it rains in Jerez prior to the previously announced date. As for the tires themselves, they have all been given revised compounds and thus weigh more, in order to cope with the new engine characteristics and output dynamics. Pirelli has provided three tire compounds for the Jerez pre-season tests: medium compound, hard compound, winter (cold weather) compound (also the wet compound but for only the above mentioned purpose). Pirelli has also limited each car to 25 sets of tires during the pre-season test.
2014 TEAMS (ENGINE SUPPLIERS) AND DRIVERS
Caterham (Renault)
Kamui Kobayashi (TBA)
Marcus Ericsson (TBA)
Ferrari (Ferrari)
Kimi Raikkonen (#7)
Fernando Alonso (#14)
Force India (Mercedes)
Sergio Perez (#11)
Nico Hulkenberg (#27)
Lotus (Renault)
Romain Grosjean (#7)
Pastor Maldonado (#13)
Marussia (Ferrari)
Jules Bianchi (#17)
Max Chilton (TBA)
McLaren (Mercedes)
Kevin Magnussen (#20)
Jenson Button (#22)
Mercedes (Mercedes)
Nico Rosberg (#6)
Lewis Hamilton (#44)
Redbull (Renault)
Sebastian Vettel (#1)
Daniel Ricciardo (#3)
Sauber (Ferrari)
Esteban Gutierrez (#21)
Adrian Sutil (#99)
Scuderia Torro Rosso (Renault)
Jean-Eric Vergne (#25)
Daniil Kvyat (#26) *NEW*
Williams (Mercedes)
Felipe Massa (#19)
Valtteri Bottas (#77)
2014 FORMULA 1 CALENDAR
Rnd#1: Australia (Melbourne) – March 14-16
Rnd#2: Malaysia (Kuala Lumpur) – March 28-30
Rnd#3: Bahrain (Sakhir) – April 4-6
Rnd#4: China (Shanghai) – April 18-20
Rnd#5: Spain (Catalunya) – May 9-11
Rnd#6: Monaco (Monte Carlo) – May 22-25
Rnd#7: Canada (Montréal) – June 6-8
Rnd#8: Austria (Spielberg) – June 20-22
Rnd#9: Great Britain (Silverstone) – July 4-6
Rnd#10: Germany (Hockenheim) – July 18-20
Rnd#11: Hungary (Budapest) – July 25-27
Rnd#12: Belgium (Spa-Francorchamps) – August 22-24
Rnd#13: Italy (Monza) – September 5-7
Rnd#14: Singapore (Singapore) – September 19-21
Rnd#15: Japan (Suzuka) – October 3-5
Rnd#16: Russia (Sochi) – October 10-12
Rnd#17: USA (Austin) – October 31-November 2
Rnd#18: Brazil (Sao Paulo) – November 7-9
Rnd#19: Abu Dhabi (Yas Marina) – November 21-23
2014 FORMULA 1 CARS (Team Name, Car Title, Launch Date)
Caterham (CT05, January 28)
First off, the CT05 was designed in collaboration with Toyota's Wind Tunnel program in Germany. Now that that's out of the way, let's get onto what this green Hulk of a car is capable of. The usual penis-nose is present on this one, and it sits proudly at the front of the car. Just behind that is the Renault F1 engine and Red Bull Technology sequential gearbox. The Leafield team that is Caterham says that the CT05 was designed around the need to maximize both aerodynamic and mechanical performance, with emphasis on weight reduction and reliability (mainly cooling ,exhaust, heat management, etc). Their drivers showed promise last season; let's hope they've improved since them.
Ferrari (F14 T, January 25)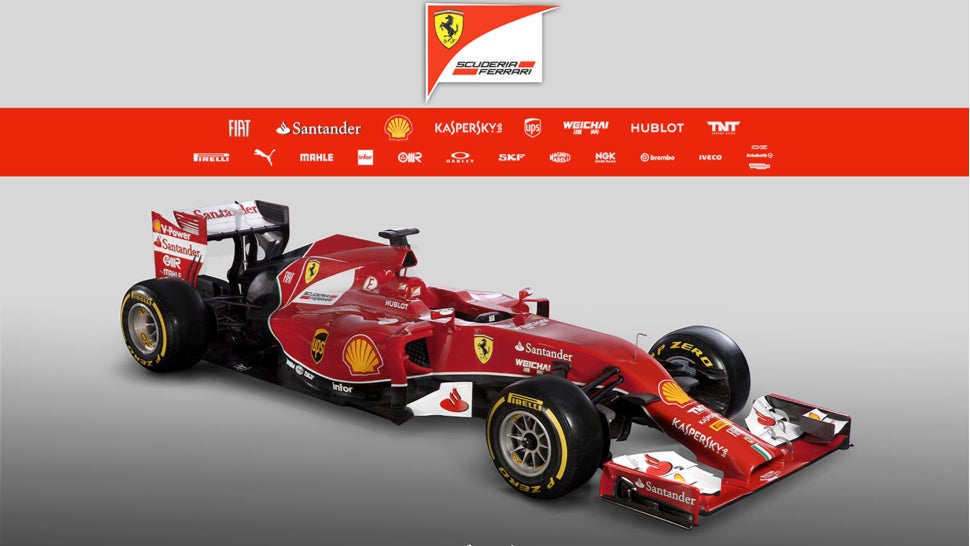 The F14 T (Ferrari 2014 T) name comes from Ferrari's online fan vote, of which over 1 million fans submitted their input; the F14 T moniker edged out the F166 by just 1.6%. What sets this Italian stallion apart from the other 10 horses is that its nose resembles neither a male nor female phallus, but rather an anteater with its low hanging snout and all. The F14T is the 60th vehicle destined for Formula 1 competition to come out of Maranello, with this project starting life approximately 2 years ago similar to their competitors). The most challenging aspect of this year's car is the packaging of both the energy recovery systems and increased cooling requirements, along with the reduction in aerodynamic downforce (though arguably the overall 2014 regulations make this season the most channeling in the last decade).As for what has carried over from last year's F138, pretty much just the pull-rod suspension setup; managing the airflow around the car is now as crucially important as ever, in addition to more thorough integration of Pirelli's 2014 tire compounds into the vehicle's design. Two-tone with black liveries on these cars do look fantastic, if I say so myself. And in case you're wondering, here's a GIF of Ferrari's F1 cars over the past decade: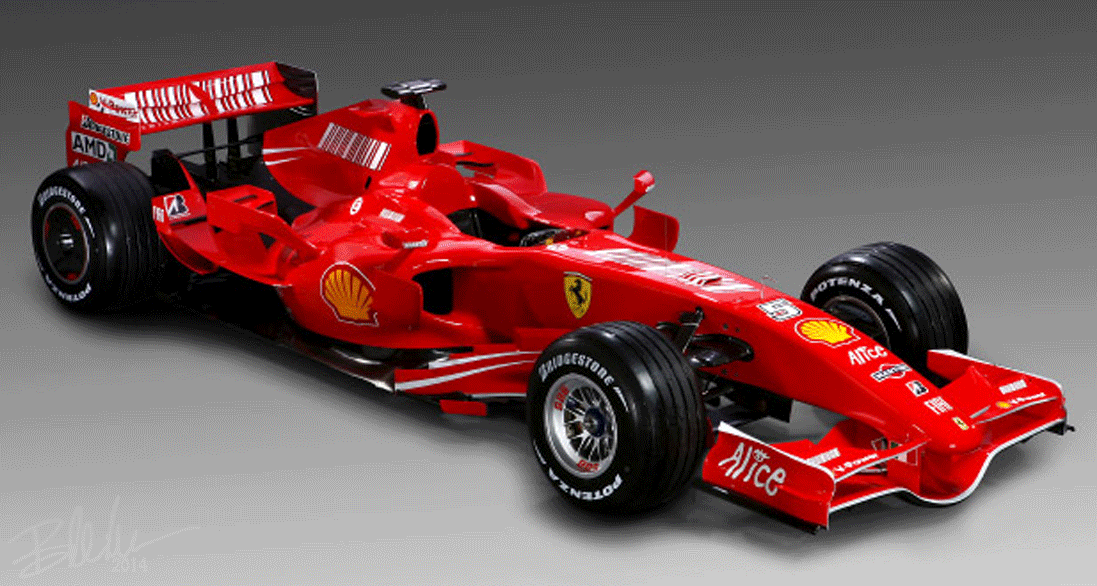 Force India (VJM07, January 22)
The only change from 2013 to 2014 is that they changed their livery to include more black, green, and orange. That's it, job done. Just kidding; aside from the obvious aerodynamic changes and the updated Mercedes powerplant, Andrew Green (technical director for Sahara Force India) has stated that nearly every single part is new; however, the VJM07 shares the same DNA as the VJM06. First pre-season test is scheduled for January 28 in Jerez, Spain.
Lotus (E22, Unannounced)
Other than the fact that the E22 is powered by a Renault engine, not much is known about the car; the main points being that it is one of the teams that uses a distinctively unique front nose unit (split nose) and that it will not run until the second pre-season test (Bahrain) in February. NOTE: due to the unconventional nose design (really, every team has an unconventional design) there has been quite the stir in the motoring community as to whether this violates the FIA design regulations or not. It is now confirmed that Lotus' split nose is legal and complies with regulations as it has passed all safety and crash tests. "We have just taken an innovative direction, and one that's different to the other teams" – Nick Chester (Lotus technical director)
Marussia (MR03, Unannounced)
No information other than it is now powered by Ferrari and is en route to the Jerez test late due to a technical glitch at their UK base of operations.
UPDATE: having arrived in Jerez two days into the test and debut on the third day, Marussia is happy to present their new MR03 which is, surprisingly, one of the best looking cars in this year's 22 car field. The significant changes this year in regulations has presented a huge challenge for a small team like Marussia; according to their technical director, only a handful of the 11,212 components are retained from going to the MR03 from the MR02. The team claim that this year's car is the "best-ever optimisation of performance versus innovation versus design integrity" Among the items which were emphasized was the management of weight and reliability from a cooling perspective. New suspension layouts have resulted in new aerodynamic regulations placing greater emphasis on mechanical performance. Partner Scuderia Ferrari is supplying Marrusia with the new V6 turbo engine, their Energy Recovery System (ERS), full transmission and all supporting hardware.
McLaren (MP4-29, January 24)
In typical McLaren fashion and following in the development of the 12C, the MP4-29 is "a sensible and calculated response to the new regulations." McLaren failed to score a single point in the 2013 season, a feat that hasn't occurred since the 1980 season; they hope to change that this year. Consistency far outweighs performance in the first few races of the 2014 season, with reliability and adaptation to the new regulations on every team's minds. Quoting Jonathan Neale (managing director for McLaren), "…this year, more than ever, will come down to a developmental race."
Mercedes (W05, January 28)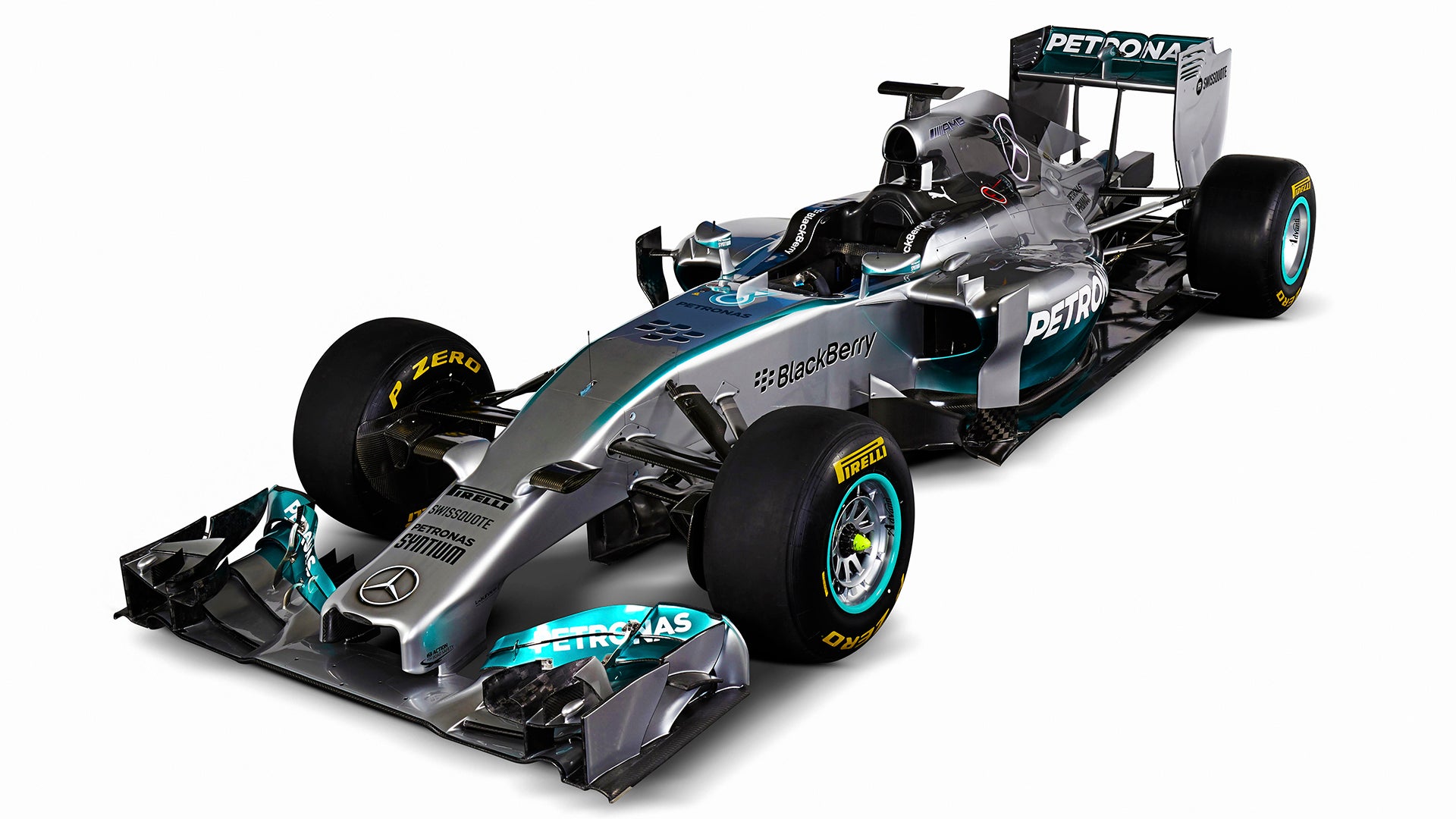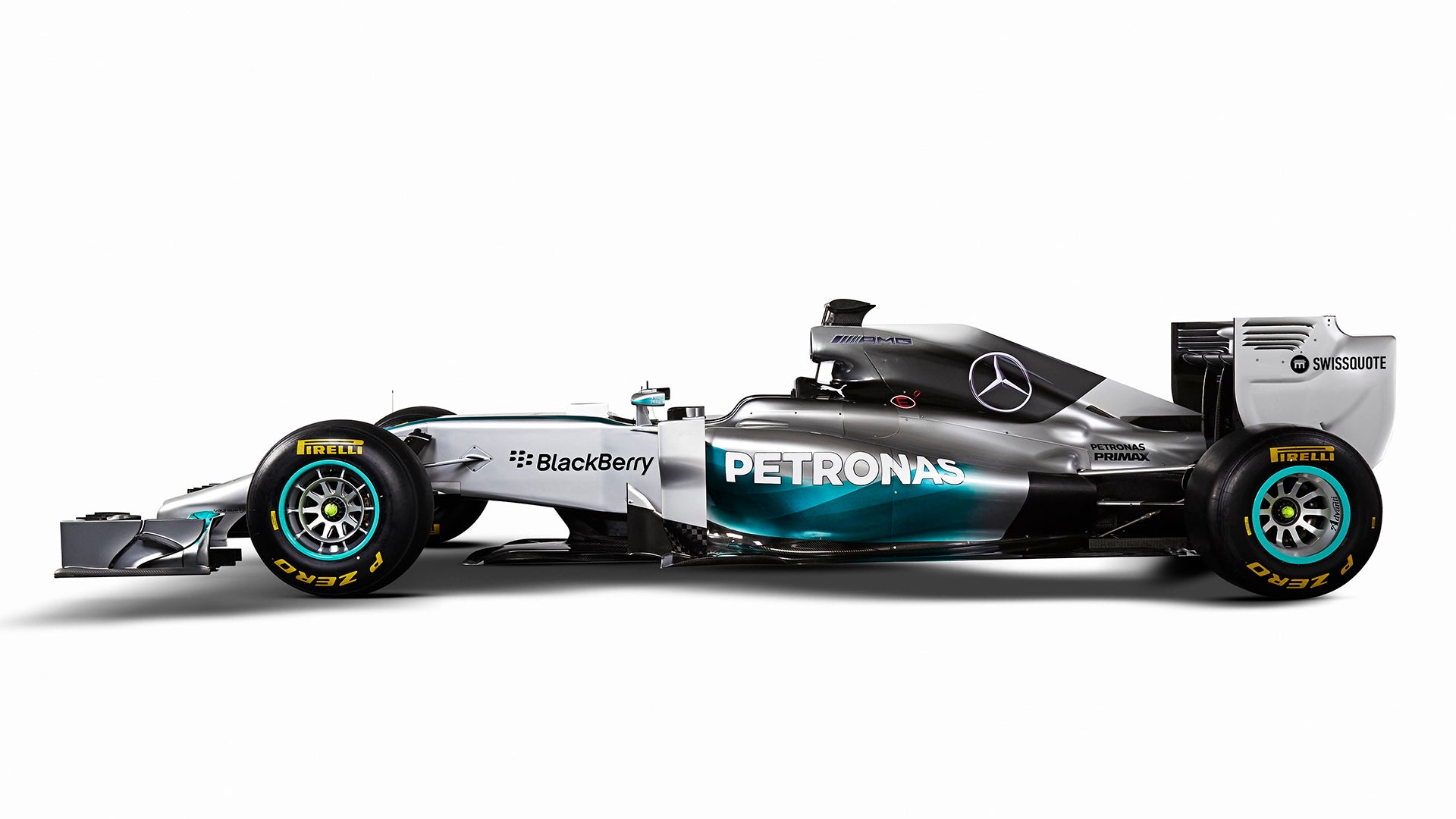 It's another sensible offering from our friendly Germans; if the 2014 season was won based on aesthetics alone, then thee W05 would be leading the pack from the get go because oh gosh it's pretty. The new Silver Arrow is the most complex car the team has built to date; incidentally, the 2014 F1 regulations make this season the start of a new and immensely interesting era, both from a technical and racing perspective. Hopefully the boys are able to perform better this season, as they were so close last year. Constructors championship could be interesting this year. (EDIT: the W05 is the first car to see a retirement on the first day of public testing; see Jerez Highlights for details).
Redbull (RB10, January 28)
Alas, it is that time of year again. The time of year where Adrian Newey bestows upon us a magnificent machine destined to be an expression of pure speed and adrenaline. The RB10 is an unbelievably pretty mistress (can't wait to see what kinky nickname Seb gives this gal) and as we all know, things that look pretty are known to go fast. Fact. Redbull Racing has been unbeatable for the past 4 consecutive years, and this year they've brought on a fresh face. If you're doing any fantasy league stuff this season, this bundle of goods is a safe bet. RBR says that the 2014 regulations changes have presented them with some interesting challenges: doubling in radiator size from the outgoing V8 due to turbos and batteries; more complicated electrical package; dramatic changes in airflow management from infront of the wing all the way down the rest of the car. Renault has also done a good job designing the powertrain, and RBR believes they have packaged it effectively. "It's been the most intense winter we've ever had - we've produced the car in the shortest possible amount of time through the design and manufacturing process. It's been fantastic to see the team work operating the way it has." – Adrian Newey
Sauber (C33, January 26)

Just like the cars unveiled previously by McLaren and Williams, the Sauber C33 features a nose that resembles that of the male phallus (arguably the most striking design element of the C33). At this point, I'm really hoping that it does yield some performance gains and doesn't look silly for the point of being silly, or else it'll be a repeat of the DeltaWing Coupe. The C33 uses Ferrari's turbo V6 but beyond that, there are no plans to set any season goals until the first of two preseason tests are complete. Both Sauber drivers are starting to build up their skill sets as well as confidence, and the Sauber team are confident that they will be able to perform this season. "Due to the radical changes in the technical regulations, predictions are simply impossible to make at this stage," – Monisha Kaltenborn (Sauber team principle).
Scuderia Torro Rosso (STR9, January 27)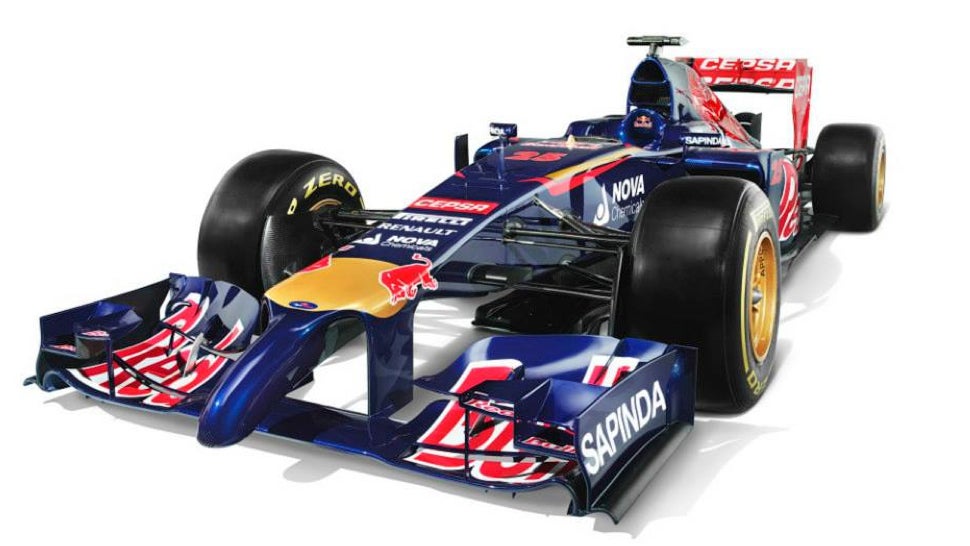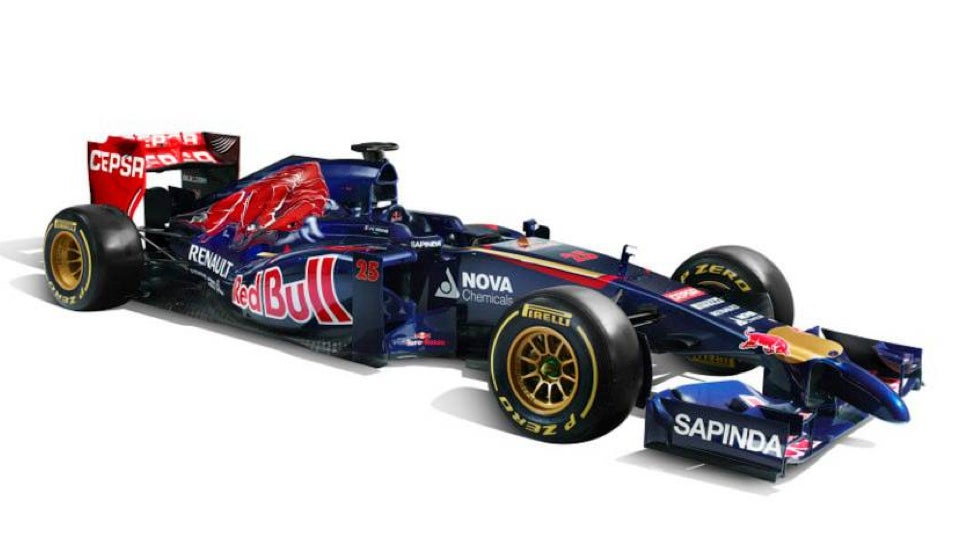 Surprise! It's another phallus-nosed car, only this one has wings (sort of)! In all seriousness, the requirement for additional cooling because of the turbocharging systems on this car is probably the main factor behind these leading-edge aerodynamic features, but they look so silly in every angle. But you've got to give these teams huge balls for having the sisu to leave it hanging out like that (okay, I'm done. Really). Just like their sister team, STR has decided to switch engine suppliers and will now be powered by the same Renault F1 engines found in Redbull Racing's RB chassis. Torro Rosso also chose to place a high priority on aerodynamics for this season, as evident in the increased funding for that particular department. STR have said that the largest hurdle was in fact the switch from Ferrari to Renault due to the differences in power unit design and characteristic, as well as actual supplier-client relationships.
Williams (FW36, Unannounced)
Rendered in the "heritage blue" livery, the Williams FW36 is a good example of the transition from a slightly hybridized naturally-aspirated V8 to a fully integrated turbo hybrid V6. Confirmed is the brand new 8 speed gearbox, which has to cope with higher torque output compared to the outgoing engine. Speaking of outgoing engines, the new V6 is a heavier unit compared to the old V8, so there's that.
2014 TECHNICAL
As mentioned before, all new cars are required to use the downsized 1.6-litre turbocharged V6 (with unlimited boost), a replacement for the old 2.4-litre naturally aspirated V8. The new V6 comes with both direct injection and fuel flow limits to address efficiency, as well as a rev limit of 15,000 RPM. Total power output is approximately 860 horsepower (600hp via the engine and 160 through an electrical support system). The Kinetic Energy Recovery System (KERS) has been revised to increase auxiliary power delivery, now encompassed in two separate motor devices; MGU-H draws energy from the exhaust and MGU-K draws energy via the traditional braking method. In comparison to the V8 KERS system, the turbo V6 MGU-K is rated for approximately three times as powerful and is crucial to the car's full power delivery. MGU-H converts heat energy from the turbines and exhausts; it also serves as an internal wastegate to regulate both turbo pressure and speed, along with the air / fuel ratio (to address efficiency and turbo lag; think of it kind of like an anti-lag system). Batteries for the 2014 KERS system will have a minimum weight of 22kg and is ridiculously complex (due to the interference of electromagnetic components with sensors).
Although the turbos have unlimited boost, teams will have to restrict turbo performance in order to maintain their fuel efficiency yet remain inside the 100,000 RPM limit of the turbine. In addition to restricted fuel delivery (100 kg/h as opposed to unlimited in 2013), there is also now a restriction in fuel capacity with the fuel tank being reduced to a 100kg capacity (35% less than 2013). Engine development is restricted during the course of a competitive season as usual, but changes believed by the FIA to be "fair and equitable" will be permitted. In addition to the carbon-consuming power delivery, there are also changes being made to aero packages to significantly reduce downforce; front wing width is going to be reduced to 1,650mm (150mm less than the 2013); nose height is being reduced to 525mm (100mm less than 2013); crash structure in the nose is also being changed to remove the dreaded duckbill and streamline the aero. As turbocharged engines require increased cooling, the sidepod cooling ducts have been increased to accommodate the increased capacity.
With the changes to the nose being lowered, the driver position has also had to be altered to accommodate; on-board cameras are not allowed to provide any aerodynamic advantages, but despite this have also been moved to a lower position. What happens to the front, you have to do the rear as well; the rear exhaust system has been reworked resulting in new bodywork to combat any aerodynamic benefit. Along with the exhaust bodywork, the rear wing is being revised to include support for central supporting beans (including accommodation for a Y75 winglet… whatever that means). Lastly but not leastly, all 2014 chassis are required to use a gearbox with 8 fixed forward gears; overall vehicle weight is supposed to meet a minimum of 690 kg.
Jerez Pre-Season Testing Highlights (JAN 28 – JAN 31)
Teams present: Red Bull Racing RB10, Mercedes AMG F1 W05, Ferrari F14 T, McLaren MP4-29, Force India VJM07, Sauber C33, Scuderia Rosso STR9, Williams FW36, Marussia MR03, Caterham CT05 (Lotus will not be present until the Bahrain round of pre-season testing)
Testing has always been important for every Formula 1 season, though this time around it will probably be as important as ever due to the completely new cars. The times posted on these days should be taken with a grain of salt as (though impressive every year) they are not accurate predictors of actual team performance when the Australian round starts in March. In addition, the Jerez track surface is not like anything the teams will race on during the 2014 season and drivers will most likely not b revealing their cars' full potential. Regardless, all teams have surely done a lot of simulator work and hopefully something interesting and materialistic happens over the next few days. Jerez will most likely be spent getting used to a new chassis that houses a drastically different power unit and unfamiliar 8-speed gearbox, in addition to the reduced aerodynamics. It should be a good chance to see how these teams address the obvious reliability issues regarding efficiency and heat management.
DAY 1 - http://linustechtips...view/?p=1447129
DAY 2 - http://linustechtips...view/?p=1452964
DAY 3 - http://linustechtips...view/?p=1459300
DAY 4 - http://linustechtips...view/?p=1464473
Bahrain Pre-Season Testing Highlights (FEB 19 – FEB 22)
-UPDATES TO COME-
The 2014 season is going to be a fun one for sure, regardless of whether you like the changes to the very things that made Formula 1 unique. But as history will tell you, we eventually got over the change from V10 engines to V8; we can do it again now. I look forward to having some interesting conversations with those on LTTF who share the same admiration for motorsport as I do. Nothing is set in stone at the moment, but chances are I will be attending the 2014 Canadian Formula 1 GP.
Anywho to finish off (for now), how many of you are going to be following this year's Formula 1 season? I'm personally following more than one discipline, but Ferrari has always been my pic for open wheel racing. Discuss.
PS. For those of you who read through the thread, a gift:
Credit: FIA (F1), Jalopnik, AP